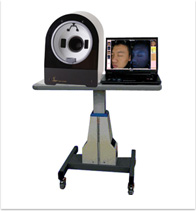 At SkinMedics, we offer a free VISION tm digital facial skin analysis by one of our trained skin therapists
(prior appointment required — mention free skin analysis)
VISIONtm FACIAL ANALYSIS
An innovative screening device which is helping lifestyle and healthcare professionals dramatically illustrate the damaging effects of excessive sun exposure to the skin. This incredible new innovation also enables us to track our patients' treatment progress and improvement in their scores after the relevant recommended treatments have been completed. The VISIONâ"¢ Analysis System is a self contained unit that captures multi-spectral photos of the face, examining the complexion for wrinkles, spots, pores, evenness (colour variation in the skin tone), porphyrins (evidence of bacteria in pores), and UV spots (characteristic of photo-damage, typically from over exposure to the sun) as well as grading skin features relative to other users of the same sex, age and skin type. The system automatically generates measurable values for skin features that previously could only be evaluated subjectively.
How does the VISIONtm work?
The VISIONâ"¢ system takes two photographs of a subject, one with standard lighting and one with UV lighting for side-by-side comparison. The standard photo shows the skin's surface appearance, while the UV photo shows sub-surface sun damage. Moments after the photos have been taken, the results are available for viewing.
Is VISIONtm right for me?
The skin Analysis is suitable for all skin types and skin tones. The system provides easy to understand reports and recommendations for preventative or remedial actions and as such, is increasingly being used around the world as an educational tool on the need for proper sun protection.